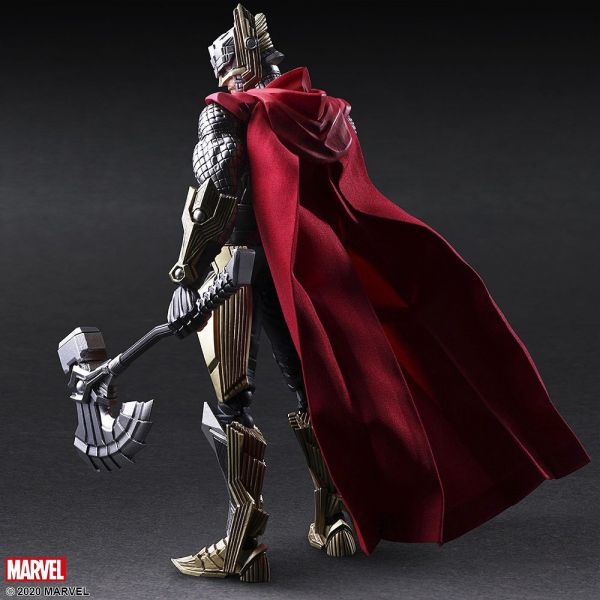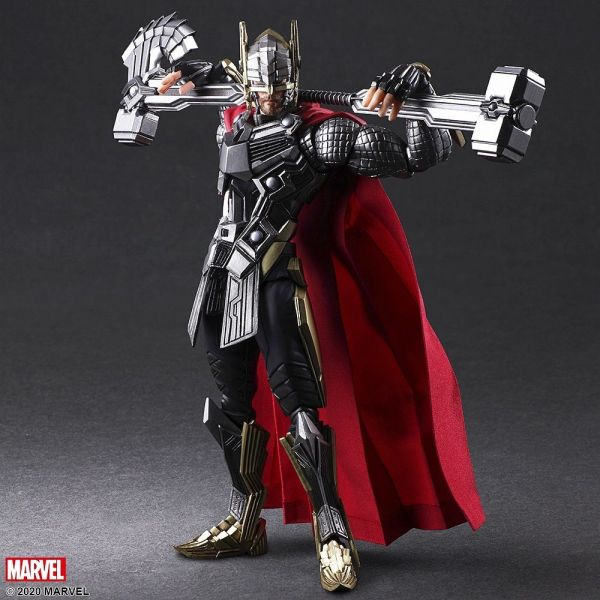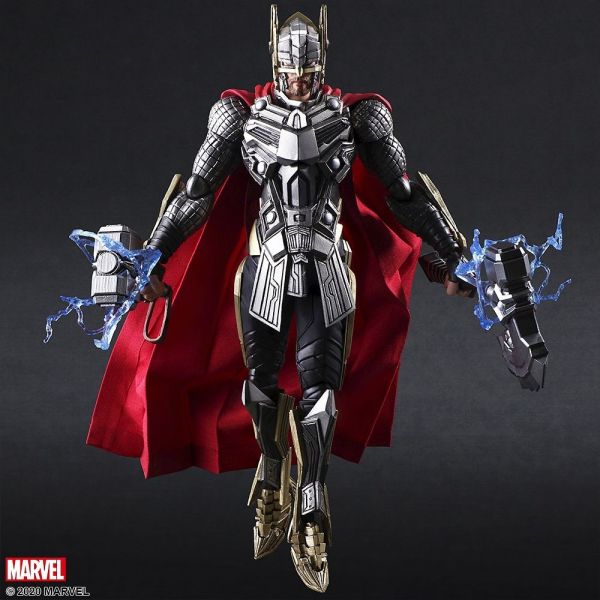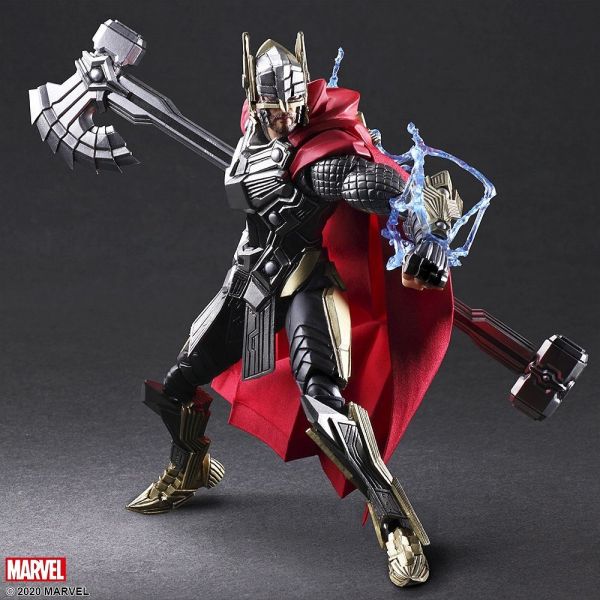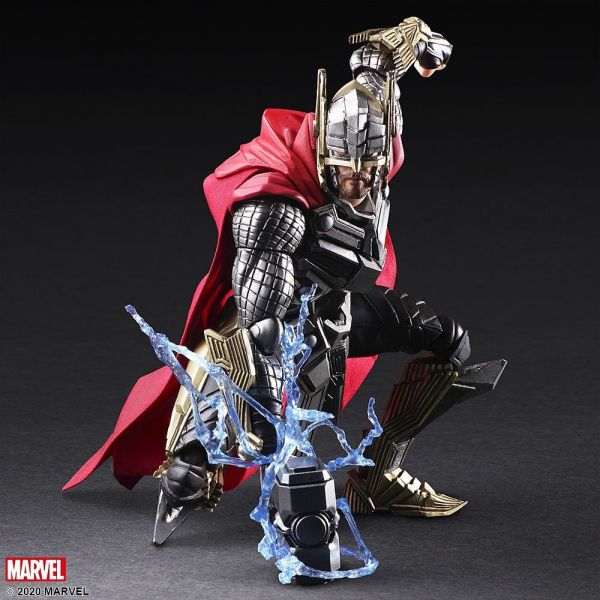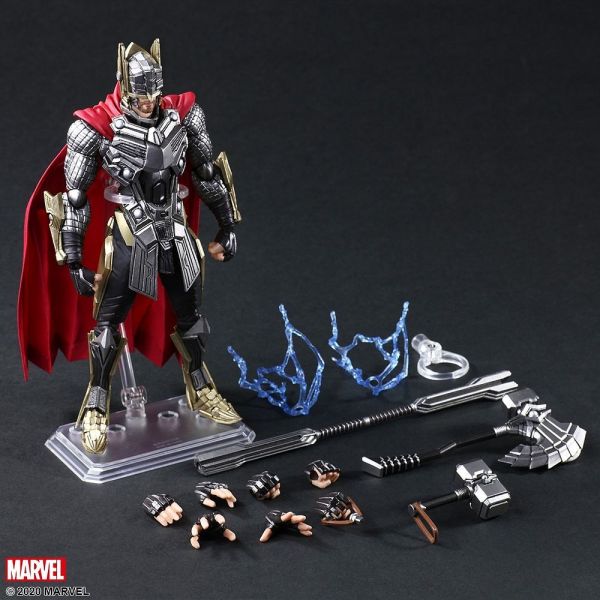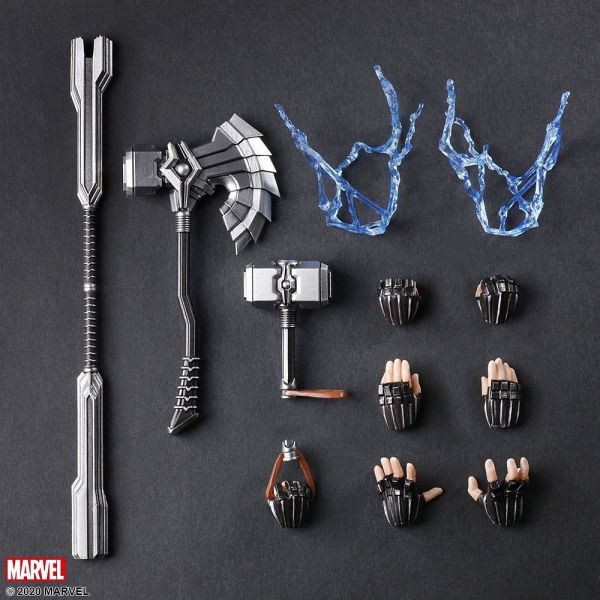 Thor Designed By Tetsuya Nomura - Marvel Universe Variant Bring Arts Action Figure
Based on Marvel characters re-designed by Tetsuya Nomura
Comes with his signature Mjolnir hammer and Stormbreaker axe
Approximately 17cm tall
Description
The fourth entrant in the MARVEL UNIVERSE VARIANT series featuring characters re-designed by Tetsuya Nomura is the Asgardian God of Thunder — Thor!

His armour incorporates a sharp twist on the traditional design using sharp edges; and with lustrous paintwork, they tried to bring out the sense of the depth of colours. His weapons include his signature Mjolnir hammer and Stormbreaker axe.
Additionally, these two weapons can be connected using the special attachment piece to use as a combo weapon. Combine that with the various visual effect pieces to recreate the way Thor controls thunder when he goes into battle

The figure includes a display stand.
Figure Size: Approximately 17cm tall
Materials: PVC
This is a posable action figure.
Product Features
Based on Marvel characters re-designed by Tetsuya Nomura
Comes with his signature Mjolnir hammer and Stormbreaker axe
Approximately 17cm tall
Basic Specifications
References
---
Manufacturer / Brand
Square Enix
---
See Full Specifications
Full Specifications
Details
---
---
Series #
MARVEL UNIVERSE VARIANT
Physical
Item Size/Weight
Approx. 17cm tall
What Customers Say About Us
Ordered on a whim as I couldn't get both items elsewhere. Was swiftly processed and dispatched, quick and professional with no fuss. Items arrived in perfect condition with no damage.

All around perfect experience. Ross Johnson
Great quality, my 12yr old plantronics encore dual headset is now as good as new.
Went for standard delivery and received within 3 working days.
Will use Kikatek again Neil C
Nendoroids decent priced,packaged superbly and delivered within a few days. Thank you and Happy Holidays! Kevin Hiew
I searched all over for the Lindy brand of USB to Lightning cable that I had previous got direct from the manufacturer. Unfortunately they are no longer in stock by them, but Kikatek were able to supply at a fair price with quick service. Stephen - Worcester UK
Looking all over for a half decent PSU which will enable me to have a 3080 rtx in my system, nowhere had them. Another retailer couldn't find one I ordered in their warehouse so I found kikatek and they actually had stock.
When ordering I was very surprised to receive free priority shipping. It arrived here lightening fast.
I havent used it yet as I'm waiting for a new CPU and the 3080 rtx but now thats one worry off of my mind.
Will definitely use again. Wickeruk

Thor Designed By Tetsuya Nomura - Marvel Universe Variant Bring Arts Action Figure