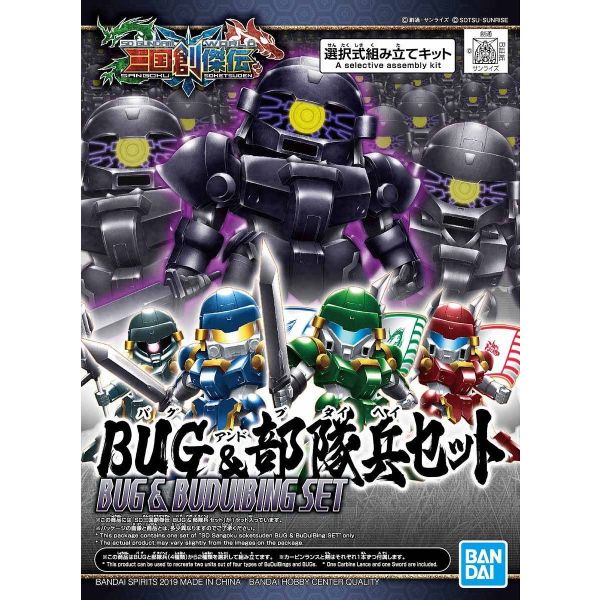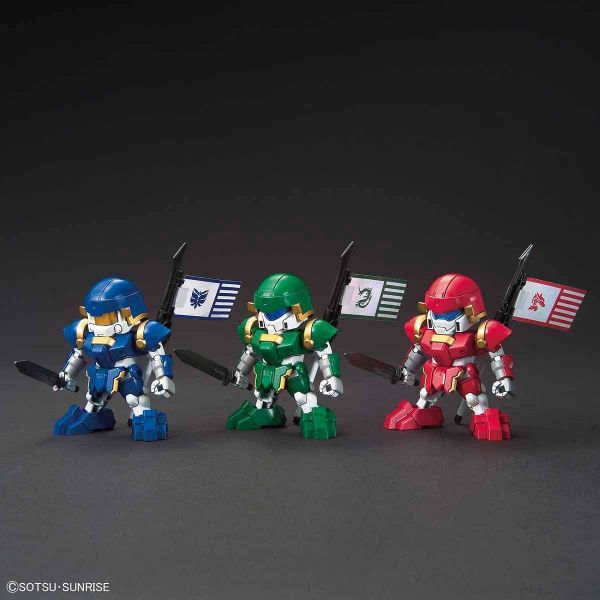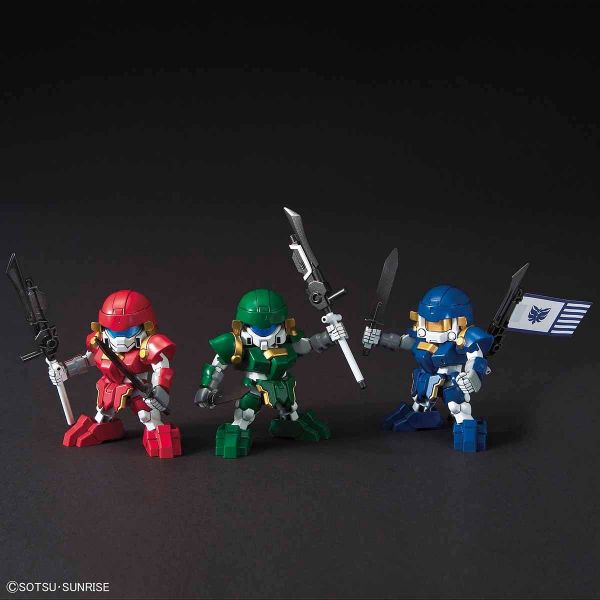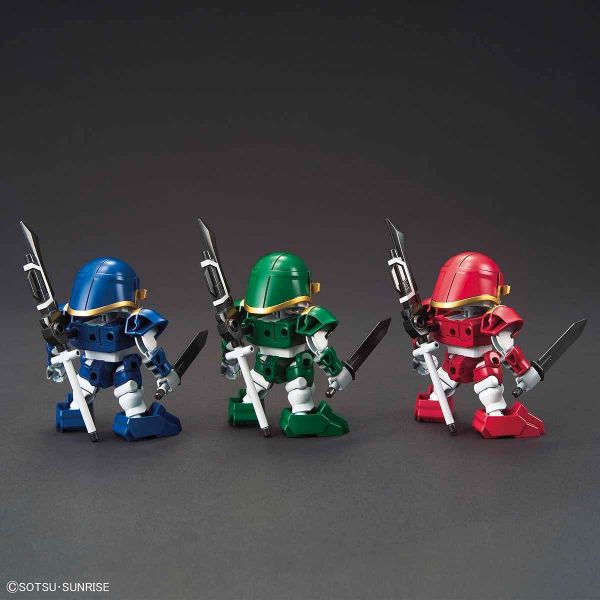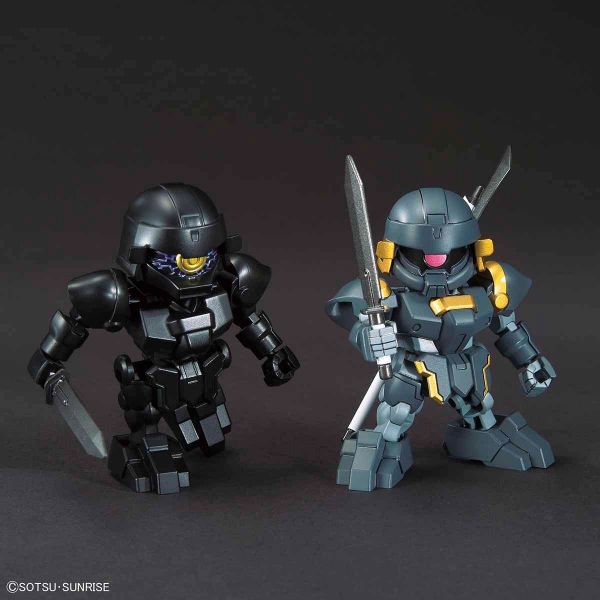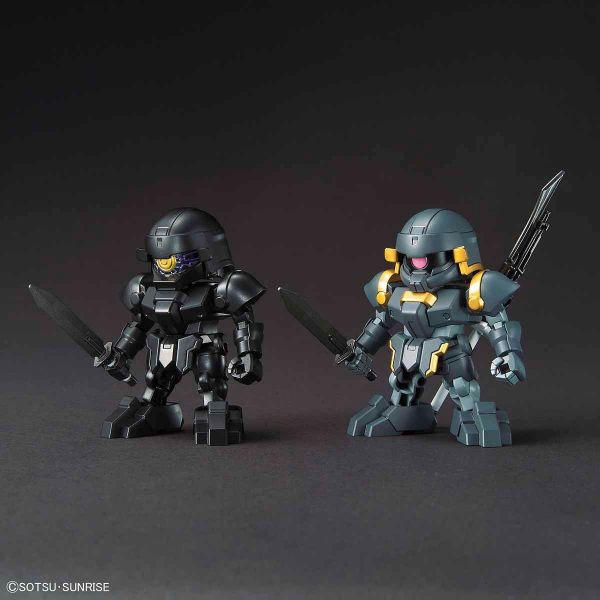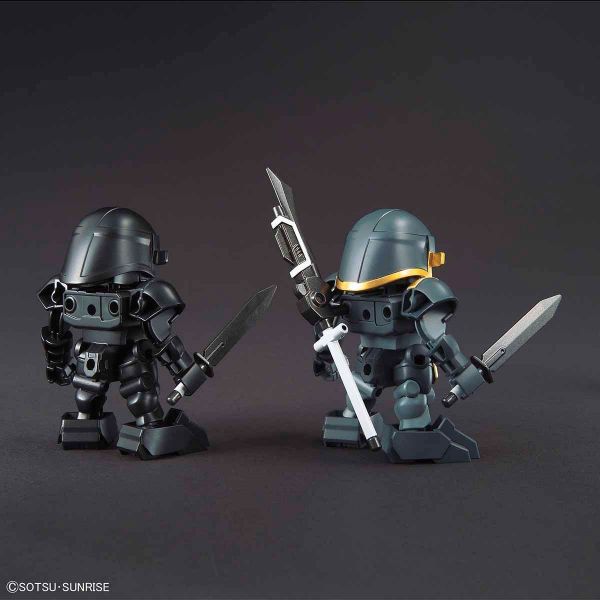 SD Sangoku Soketsuden BUG & Troop (Set of 2 Figures Configurable into 4 Different Types)
BUGs and BuDuiBing tropps from the Sangoku Soketsuden series
Foil stickers included
Description
Build your own army of Bug and BuDuiBing troops to fight for your generals in the SD Sangoku Soketsuden series! This set contains parts to build 2 figures that can be configured into any of the four types of Bug and BuDuiBing troops.
Get yours today!
Accessories
1 x Carbine Lance
1 x Sword
3 x Beam Flag paper cutouts from the manual
Foil stickers
Note
The kit builds two figures only. The runners are moulded in black. Detail decal stickers are included, but painting is needed in order to achieve the individual colour schemes of the different factions.
About BUGs
People who have connected with the mysterious Etiolation Trinity. They have lost their sanity and attack others. Those who are attacked also become BUGs.
About BuDuiBing
Common soldiers of the Wei/Yu/Shu/Luoyang area. They are equipped with versatile mass-produced weapons.
Product Features
BUGs and BuDuiBing tropps from the Sangoku Soketsuden series
Kit builds 2 figures that can be configured into any of the four types of Bug and BuDuiBing troops
Foil stickers included
Moulded in black - painting needed to achieve colour schemes of different factions shown
Basic Specifications
References
---
Manufacturer / Brand
Bandai
---
See Full Specifications
Full Specifications
Details
Series
SD Sangoku Soketsuden
---
Physical
Item Size/Weight
21.0cm x 15.5cm x 5.3cm / 120g
---
What Customers Say About Us
Ordered a new monitor from Kikatek
The monitor arrived well packaged the next day by DPD, this was extremely good considering it was the week before Christmas. I would not hesitate to purchase items from Kikatek again, a very good service. Neil Wilson
Ordered on a whim as I couldn't get both items elsewhere. Was swiftly processed and dispatched, quick and professional with no fuss. Items arrived in perfect condition with no damage.

All around perfect experience. Ross Johnson
Great quality item, fast delivery, no problems at all, recommended! DG
Really great rpice, was waiting for a long time to find the right price. Great screen arm from Dell, really can lift an engine block! Faultless service. ***** Jethro Hazelhurst
My order arrived quickly and was in good condition when it arrived. A good service, in fact. Mansur Darlington

SD Sangoku Soketsuden BUG & Troop (Set of 2 Figures Configurable into 4 Different Types)