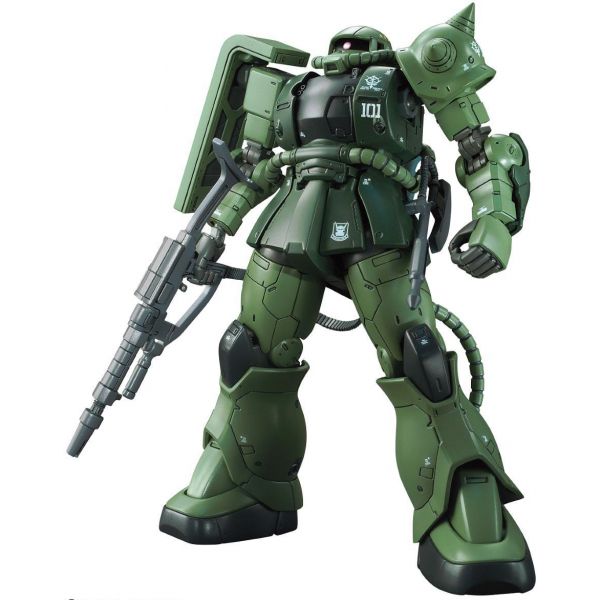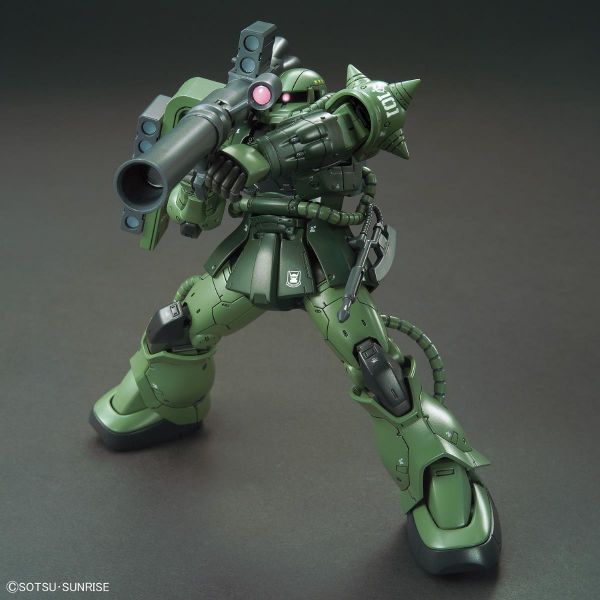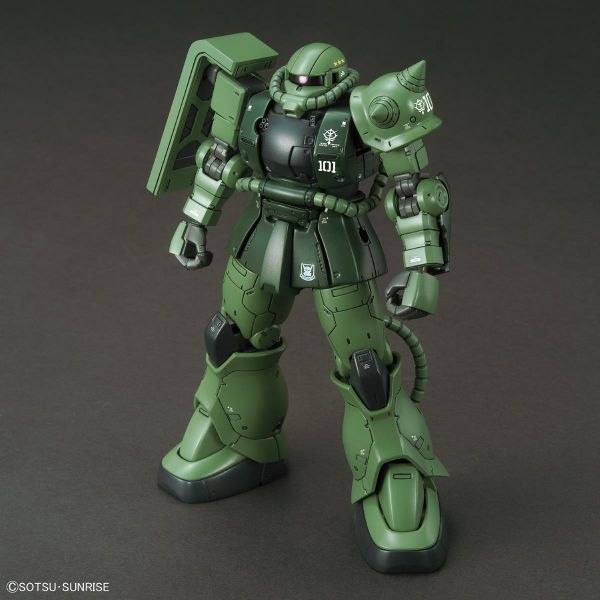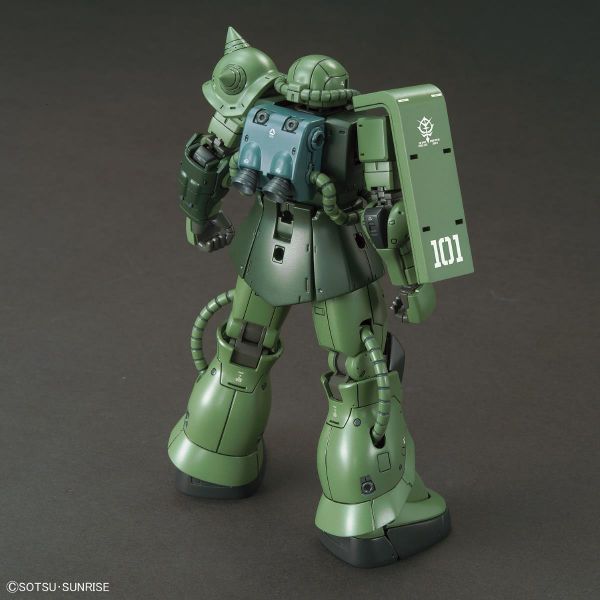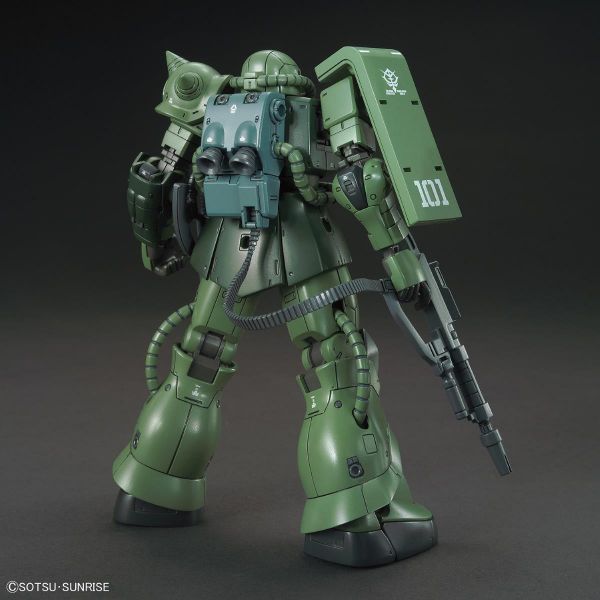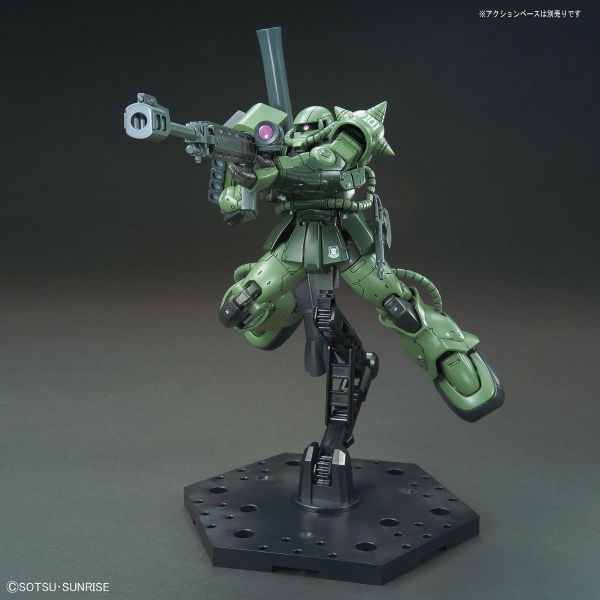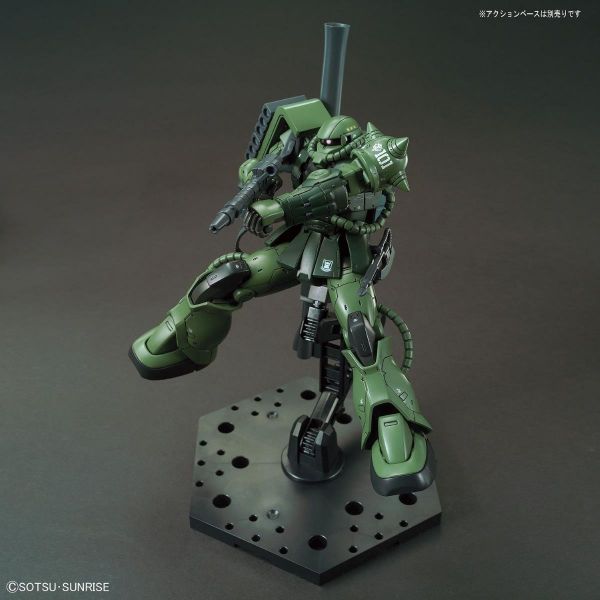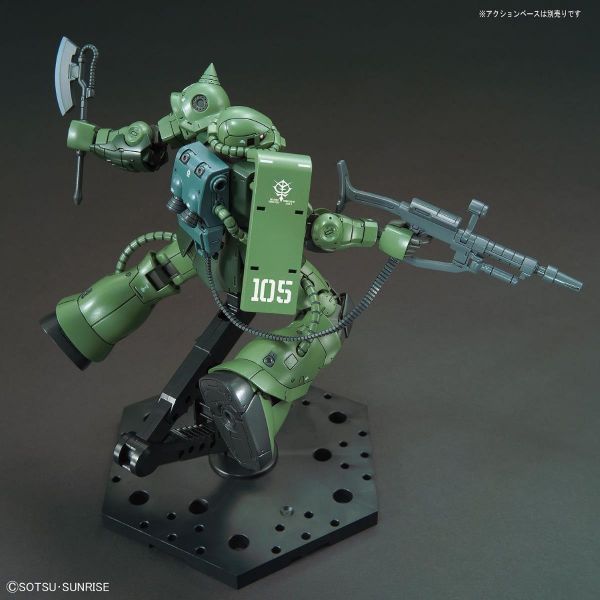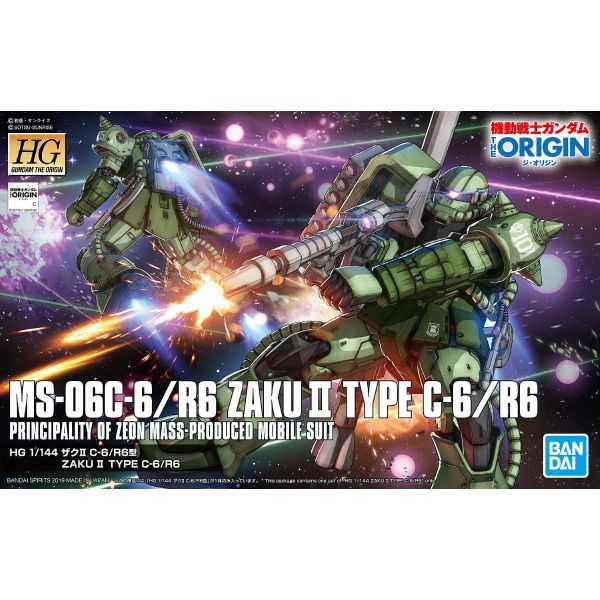 HG Zaku II Type C6/R6 - Principality of Zeon Mass-Produced Mobile Suit MS-06C-6 (Gundam: The Origin)
High Grade Zaku II Type C-6 / R6 from "Gundam: The Origin"
1/144 scale Gunpla model kit
Includes tons of weapon accessories
Description
Bandai's newest HG kit is the Zaku II Type C6/R6 from "Mobile Suit Gundam The Origin"! The shape of the Zaku II C6 type's chest is altered from that of the regular C type and reinforced. It comes with markings so you can recreate the suit's appearance when piloted by Denim, Slender, Gene, or Pacheco. Fully posable after assembly, this kit is moulded in colour so paint isn't necessary, and stickers are included for its markings.
Order yours today!
Accessories
Belt fed machine gun
Bazooka Type A2
Spare magazine for bazooka (x2)
Anti-Ship rifle ASR-78
Heat Hawk (active and stored form)
Right hand for rifle/bazooka
Fist (left and right)
Open left hand
Marking sticker
About the MS-06C-6/R6 Zaku II
The MS-06C-6/R6 Zaku II is a mobile suit featured in the Mobile Suit Gundam: The Origin manga. This variant of the MS-06 Zaku II was used by Char Aznable's crew on the Falmer.
The Zaku II units deployed during the first battles of the One Year War, such as the Clash of Loum, were mainly early production models known as the Type C. The Type C units were developed to be utilized in space and were later customized to the Type C-5 and C-6. Both types had cockpit hatches shaped and placed in different configurations from the Type C and Type F (which appeared after Type C-6) and were equipped with laser guns on the left side of their chests. Vulcan guns were added to the right side of the chests of the Type C-6. Overall, the Type C-6 has enhanced armour and weaponry and is produced in limited numbers.
— Source: Gundam Wiki
Product Features
High Grade Zaku II Type C-6 / R6 from "Gundam: The Origin"
1/144 scale Gunpla model kit
Includes tons of weapon accessories
Basic Specifications
References
---
Manufacturer / Brand
Bandai
---
See Full Specifications
Full Specifications
Details
Series
Mobile Suit Gundam The Origin
---
Physical
Item Size/Weight
30.0cm x 19.0cm x 7.0cm / 350g
---
---
What Customers Say About Us
Great quality, my 12yr old plantronics encore dual headset is now as good as new.
Went for standard delivery and received within 3 working days.
Will use Kikatek again Neil C
The website was clear and easy to make a purchase from. The item arrived as advised and well packaged.
It's was an excellent purchase price too.
My experience was all positive and I will use Kikatek again. Lesley Day
I came across this website by chance and saw an anime figure in stock and got on a whim as it isn't released until end of the month. Despite ordering during busy period shipping was super fast and package was wrapped sooo well!! Very happy with the service and added sweeties. Would defo purchase from
Store again Thankyou so much User
Good range of products and good service, with a selection of shipping options. Dave Edwards
Kikatek has always been a great company to deal with and this experience was no different. My hard drive was well packaged, arrived on time and very happy with the product. Mr James Sinclair

HG Zaku II Type C6/R6 - Principality of Zeon Mass-Produced Mobile Suit MS-06C-6 (Gundam: The Origin)