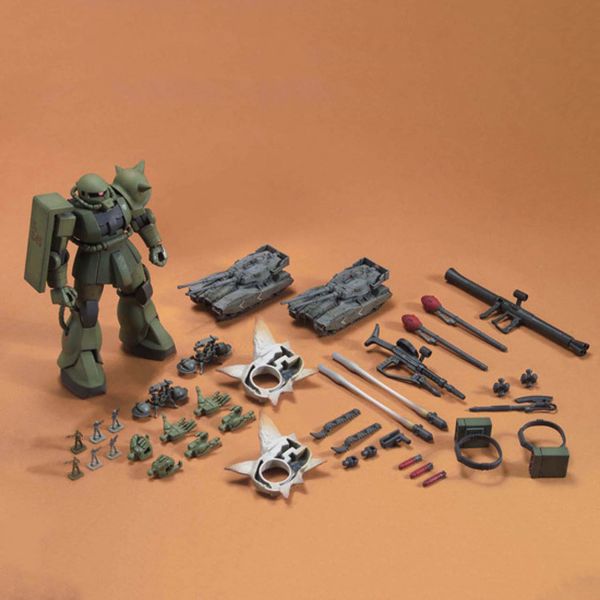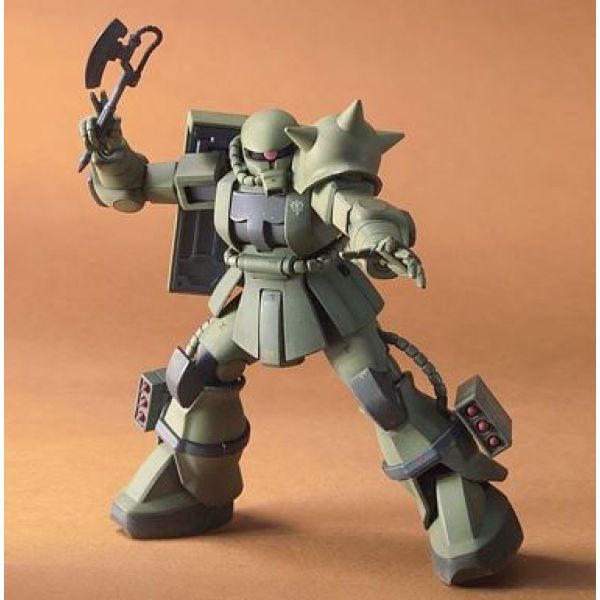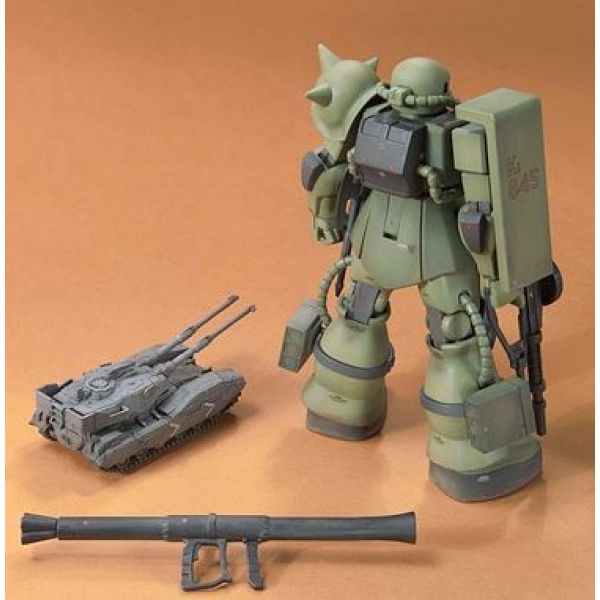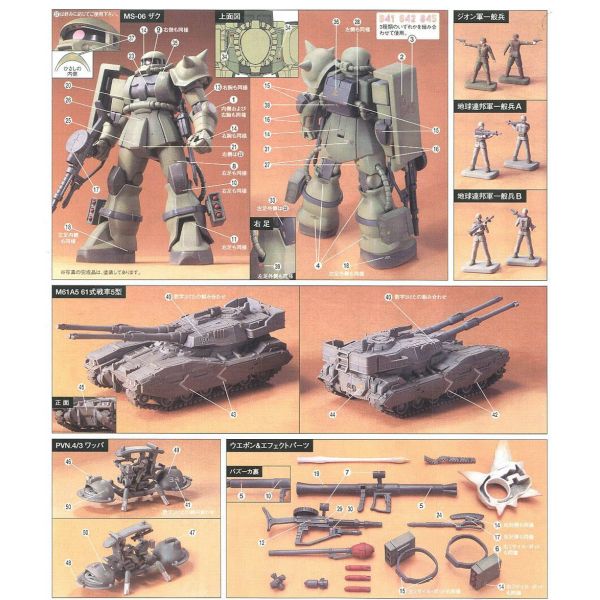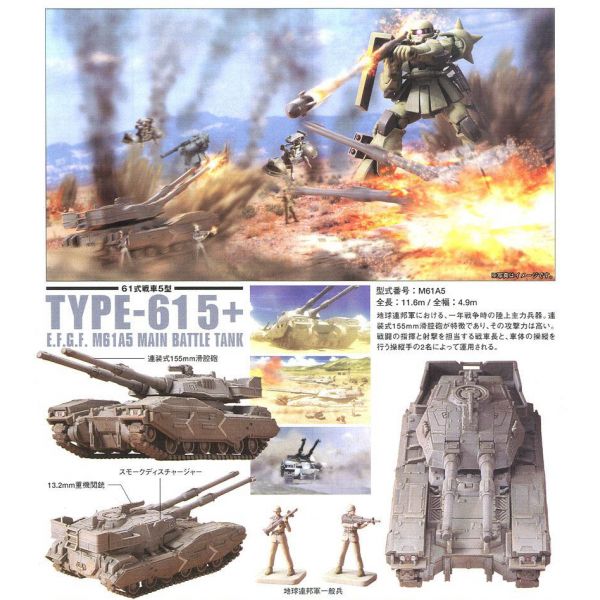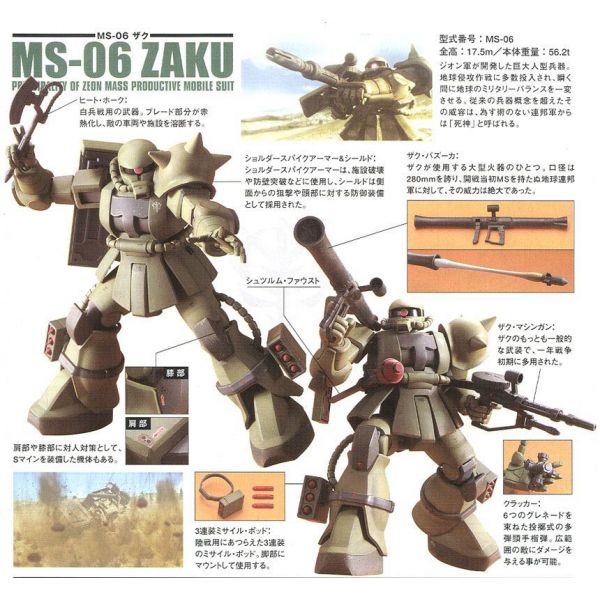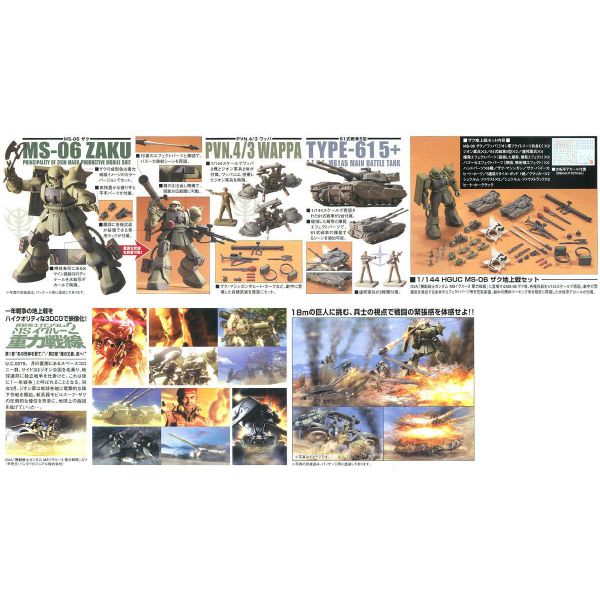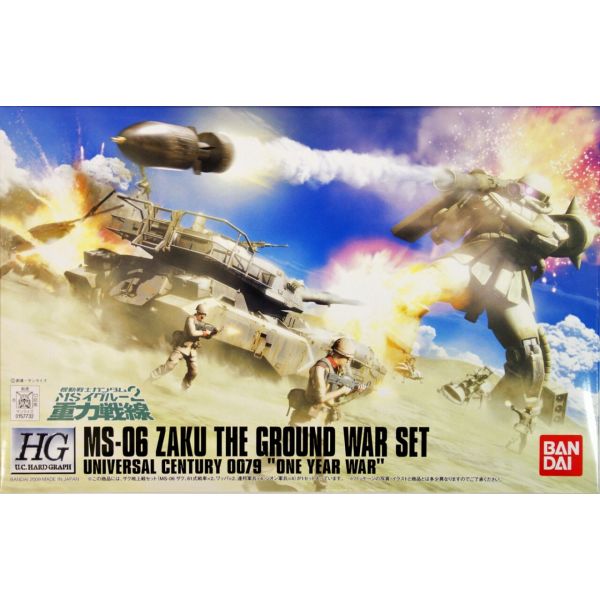 HG Zaku The Ground War Set (Mobile Suit Gundam MS IGLOO 2: Gravity Front)
Description
Recreate the heated battle scenes seen in the "Mobile Suit Gundam MS IGLOO 2: Gravity Front" OVA or build your own custom One Year War battlefield diorama with this impressive HGUC set from Bandai!
Included are snap-fit parts that come moulded in colour and allow you to build an HGUC mass-production type MS-06 Zaku, which can be equipped with weaponry consisting of a Zaku Machine Gun, Heat Hawk, a pair of three-tube missile pods, Zaku Bazooka with two firing effect parts, two Crackers, and two Sturm Fausts.
Three pairs of optional hands are provided. Also packed in this set are two Type-615+ E.F.G.F. M61A5 main battle tanks with two explosion effect parts, two PVN.4/3 Wappas, plus four Zeon and four Earth Federation soldiers (figures come moulded in grey). A foil sticker and a sheet of waterslide marking decals are included.
Product Type
This is a【Plastic Model Kit】that requires assembly.
Basic Specifications
References
---
Manufacturer / Brand
Bandai
---
Details
Series
Mobile Suit Gundam MS IGLOO 2: Gravity Front
---
---
Piloted By
Neo Zeon
Axis Zeon
Principality of Zeon
Zeon Remnants
---
Physical
Item Size/Weight
20.2cm x 31.0cm x 9.1cm / 440g
---
---
Downloads and Related Links
What Customers Say About Us
Really good service, arrived fast and well packaged ect. 10/10 will use again!! PHOEBE STURT
As always kikatek treat you like an real customer with care and respect. I have never been happier with a company. Also my order arrived fast without a mark on it! As standard with kikatek I have never had a box arrive damaged not once.thanks again to everyone at kikatek for their hard work and dedication.👍👍👍👍👍 Gary.d
Kikatek are consistently first class in terms of choice, delivery speed and price. Stacy Collins
Really great customer service respond to emails really quick very helpful with delivering orders by courier on a different day for me instead of next day the care in which items are packed so as not to get damaged in transit is top notch i will definitely be using them again for gundam kits James Millar
First time ordering - great prices, speedy dispatch & free shipping. Couldn't ask for more, thanks Kikatek! JMC

HG Zaku The Ground War Set (Mobile Suit Gundam MS IGLOO 2: Gravity Front)