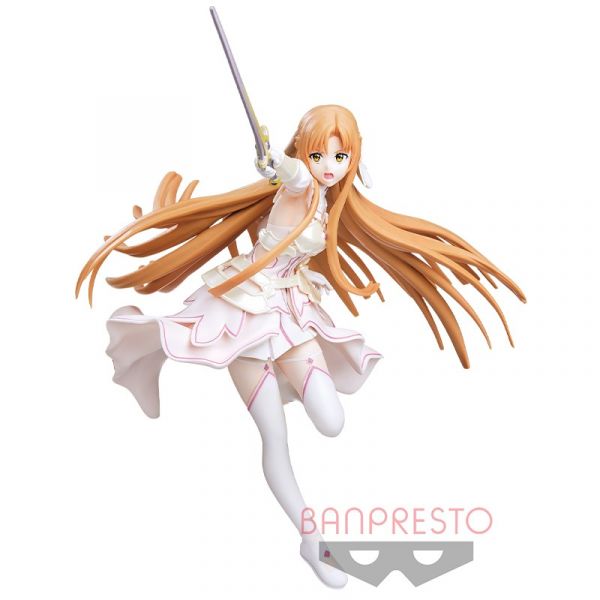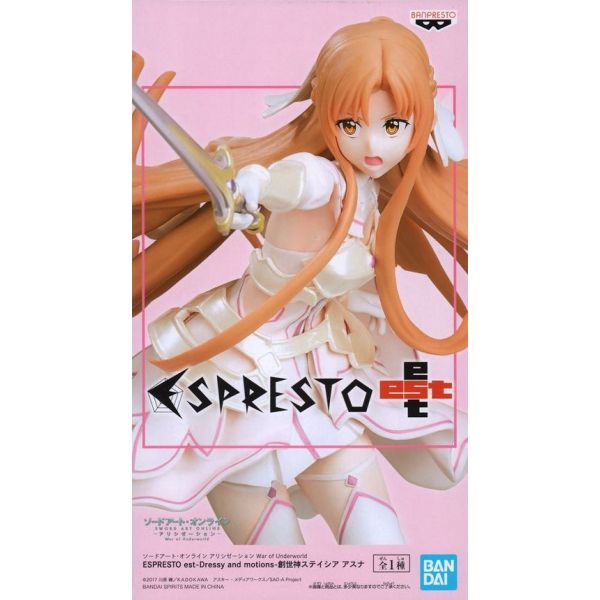 Asuna The Goddess of Creation - Espresto Est Dressy & Motions Series (Sword Art Online Alicization War of Underworld)
Sulpted in a dynamic pose with her hair flowing beautifully in the air
Approximately 20cm tall
Description
From Banpresto Espresto Est figure — Dressy & Motions — series come a new figure featuring Asuna The Goddess of Creation from Sword Art Online Alicization War of Underworld.
She stands about 20cm tall dressed in her white and lilac dress with silver armor. With a determined look on her face she rushes forward with her sword at the ready, her long hair flowing in the air around her in a dynamic pose.
This is a completed and painted, fixed-pose figure.
Product Features
Banpresto's ESPRESTO est Dressy and Motions series featuring Asuna from SAO: Alicization War of Underworld
Sulpted in a dynamic pose with her hair flowing beautifully in the air
Approximately 20cm tall
Basic Specifications
References
---
Manufacturer / Brand
Banpresto
---
See Full Specifications
Full Specifications
Physical
Item Size/Weight
25.4cm x 14.2cm x 14.2cm / 500g
---
What Customers Say About Us
By far the best online company and customer service out there, and i mean it.

i bought an item , and returned it without no difficult issues most companies give.

and got an email on the same day saying the refund has been refunded .very fast response

il defenitely buy from them soon Uche
Nendoroids decent priced,packaged superbly and delivered within a few days. Thank you and Happy Holidays! Kevin Hiew
Really good service. I researched this product in terms of price. This site was markedly cheaper than others - including Amazon and Ebay!
The goods arrived quickly and safely and Iwas kept informed of progress during transit.
Will definately use again Sue Wilson
Looking all over for a half decent PSU which will enable me to have a 3080 rtx in my system, nowhere had them. Another retailer couldn't find one I ordered in their warehouse so I found kikatek and they actually had stock.
When ordering I was very surprised to receive free priority shipping. It arrived here lightening fast.
I havent used it yet as I'm waiting for a new CPU and the 3080 rtx but now thats one worry off of my mind.
Will definitely use again. Wickeruk
I came across this website by chance and saw an anime figure in stock and got on a whim as it isn't released until end of the month. Despite ordering during busy period shipping was super fast and package was wrapped sooo well!! Very happy with the service and added sweeties. Would defo purchase from
Store again Thankyou so much User

Asuna The Goddess of Creation - Espresto Est Dressy & Motions Series (Sword Art Online Alicization War of Underworld)