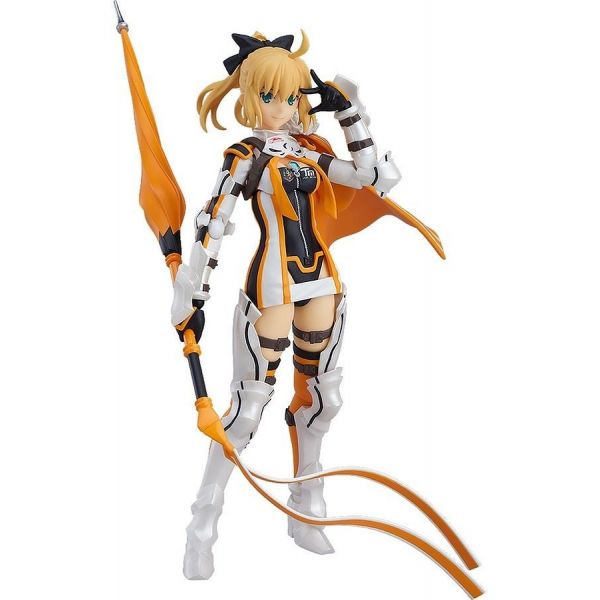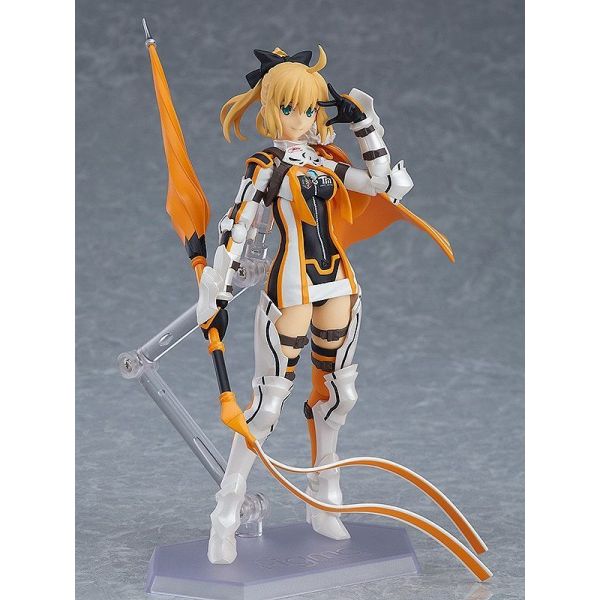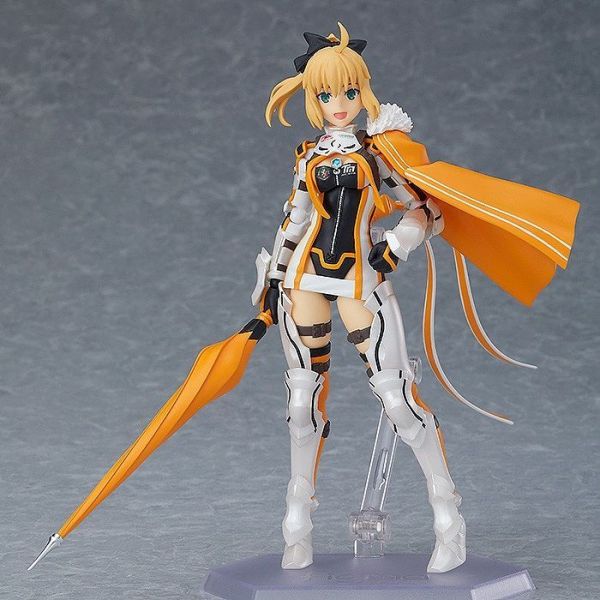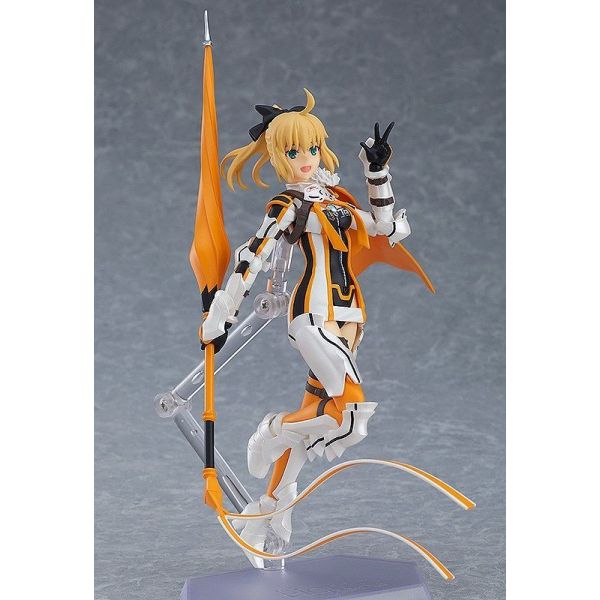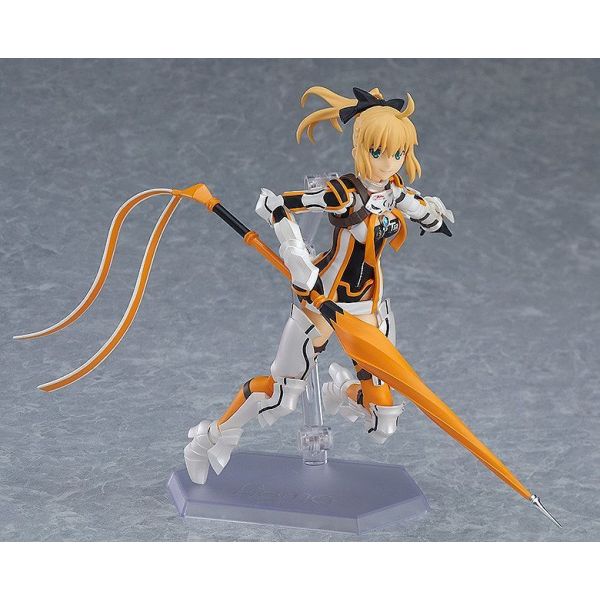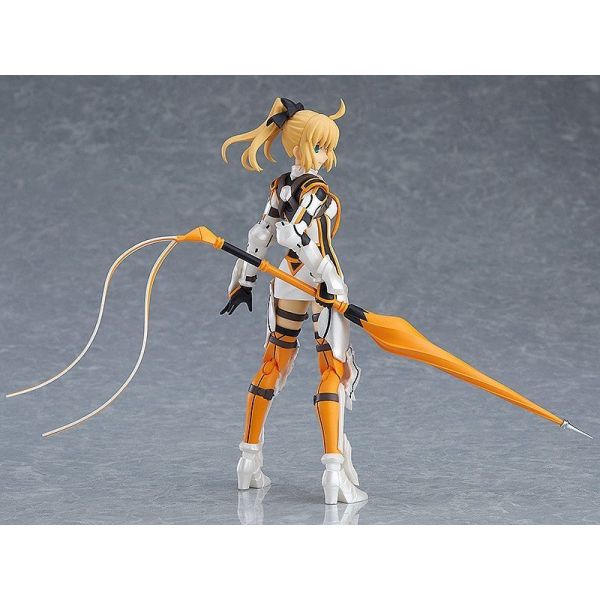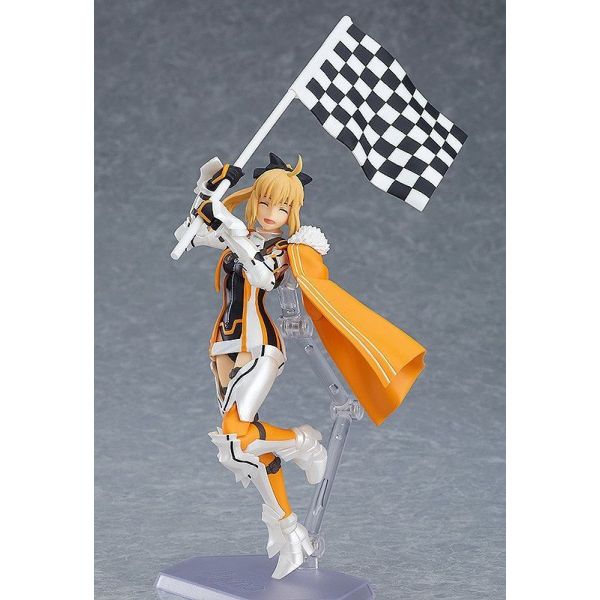 Altria Pendragon: Racing Version - Figma # SP-128 (Goodsmile Racing & Type-Moon Racing)
figma action figure of Altria Pendragon in a special racing costume!
Includes three face expression plates
Also includes a racing parasol, removable cape and a checkered flag
Description
The King of Knights, guiding the team towards victory on the circuit.
GOODSMILE RACING & TYPE-MOON RACING present a figma of Altria Pendragon in a special costume!
The smooth yet posable figma joints allow you to recreate dynamic action scenes from the series. A flexible plastic is used in specific areas, allowing proportions to be kept without compromising posability.
Three expressions are included — a confident face, a bright smiling face and a closed-eyes smiling face. Other accessories include a racing parasol, a removable cape and a checkered flag for tons of posing options! Last but not least, an articulated figma stand is included to keep her standing strong.
Order yours today!
Figure Size: About 13.5cm tall
Materials: PVC, ABS
This is a posable action figure from the figma series.
Product Features
figma action figure of Altria Pendragon in a special racing costume!
Includes three face expression plates
Also includes a racing parasol, removable cape and a checkered flag
Basic Specifications
References
---
Manufacturer / Brand
Good Smile Company
---
See Full Specifications
Full Specifications
Details
Series
Fate / GOODSMILE RACING & TYPE-MOON RACING
---
---
---
Sculptor
Max Factory (Shinji Koshinuma)
Physical
Item Size/Weight
19.3cm x 14.3cm x 7.8cm / 230g
What Customers Say About Us
I've ordered a Samsung Tab S7+ Keyboard Cover and it got delivered the next day without even selecting that as an option. And the price was the best on the web. Razvan Alexandru Ghiculescu
By far the best online company and customer service out there, and i mean it.

i bought an item , and returned it without no difficult issues most companies give.

and got an email on the same day saying the refund has been refunded .very fast response

il defenitely buy from them soon Uche
I searched all over for the Lindy brand of USB to Lightning cable that I had previous got direct from the manufacturer. Unfortunately they are no longer in stock by them, but Kikatek were able to supply at a fair price with quick service. Stephen - Worcester UK
The website was clear and easy to make a purchase from. The item arrived as advised and well packaged.
It's was an excellent purchase price too.
My experience was all positive and I will use Kikatek again. Lesley Day
I came across this website by chance and saw an anime figure in stock and got on a whim as it isn't released until end of the month. Despite ordering during busy period shipping was super fast and package was wrapped sooo well!! Very happy with the service and added sweeties. Would defo purchase from
Store again Thankyou so much User

Altria Pendragon: Racing Version - Figma # SP-128 (Goodsmile Racing & Type-Moon Racing)