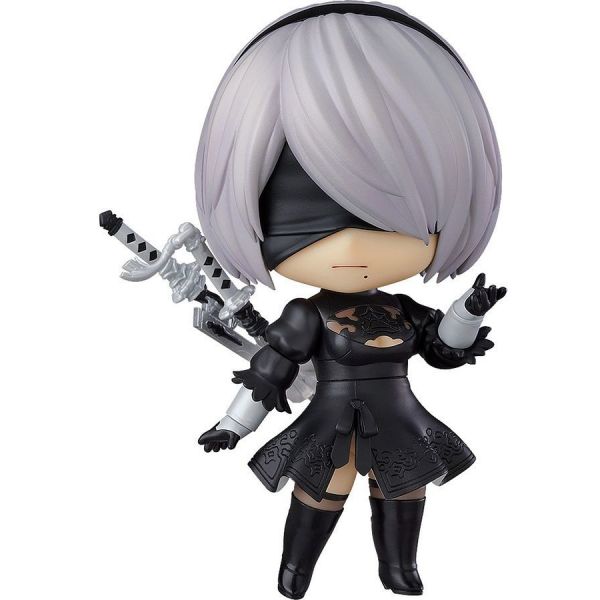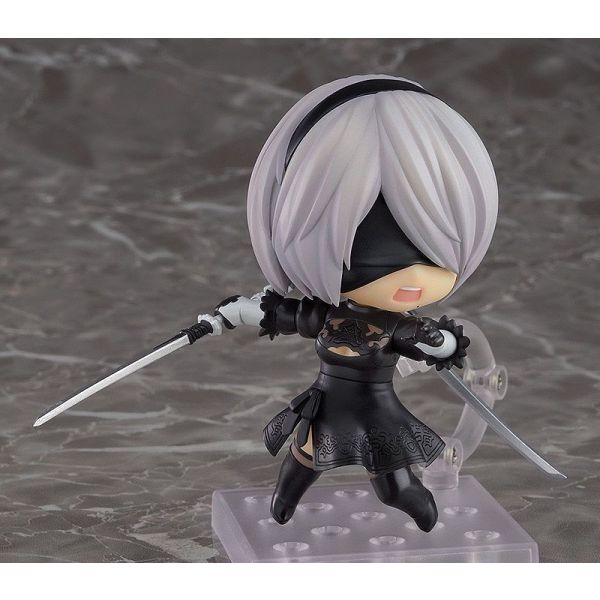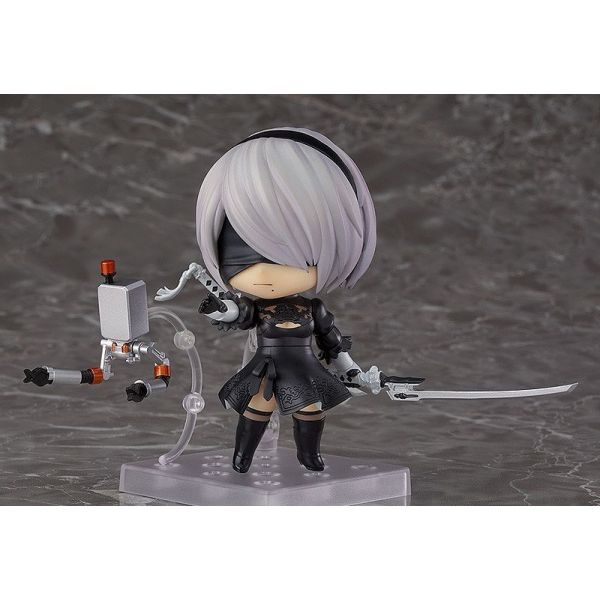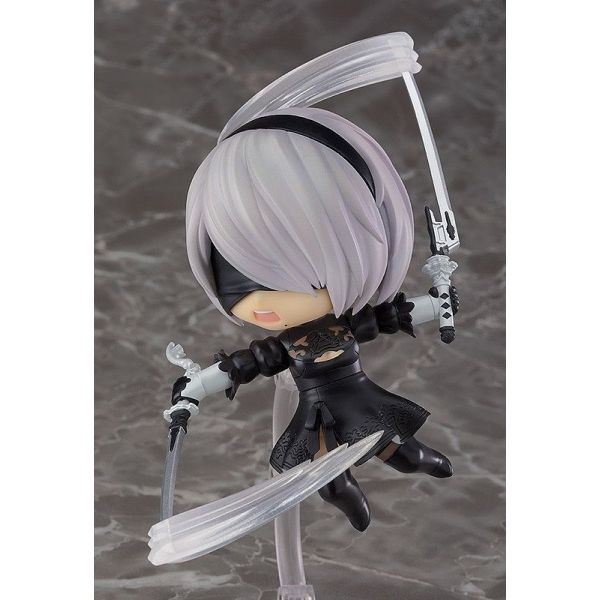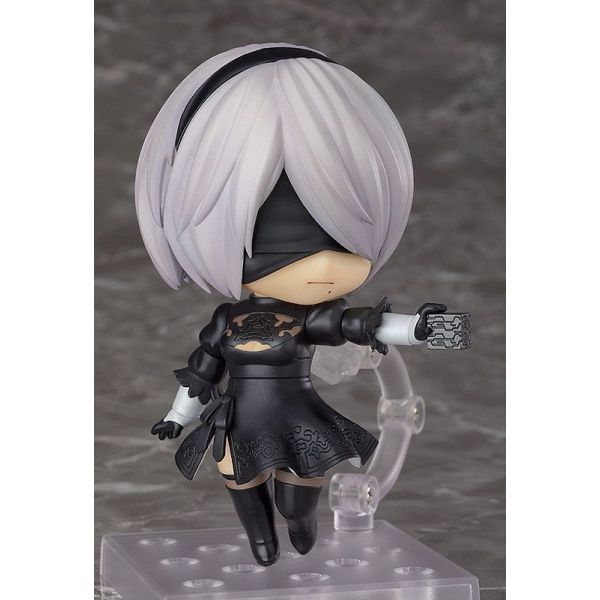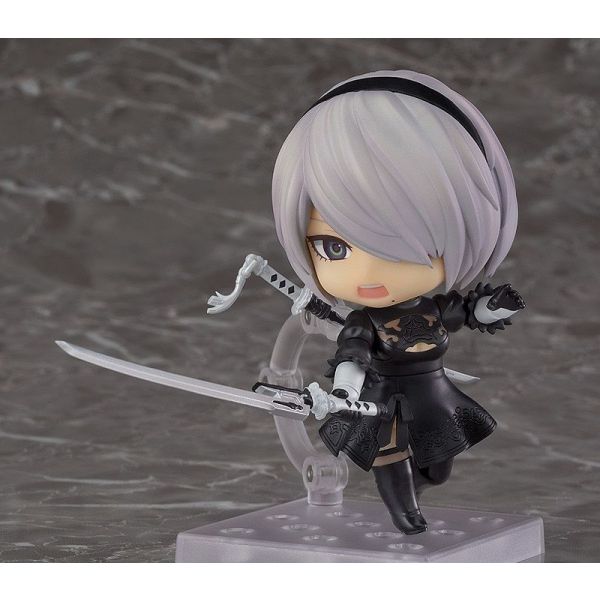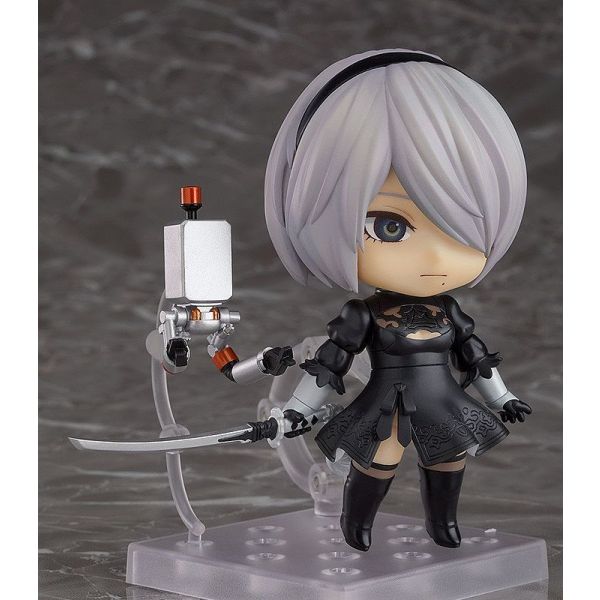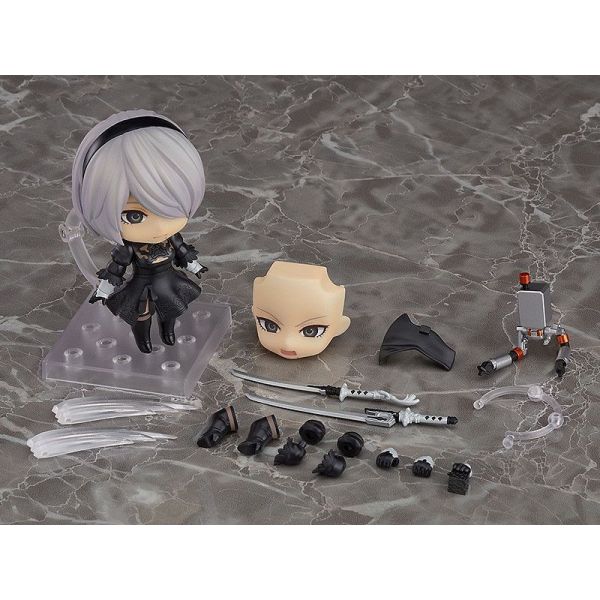 Nendoroid 2B / YoRHa No.2 Type B (NieR:Automata)
Features 2B and her support unit Pod 042
Includes her weapons Virtuous Contract and Virtuous Treaty
About 10cm tall
...Emotions are prohibited.


— ……感情を持つ事は禁止されている。 —
Description
From "NieR:Automata" comes a Nendoroid of the automated YoRHa infantry member and all-purpose battle android "YoRHa No.2 Type B (2B)".
She comes with two faceplates — a cold emotionless faceplate and a combat faceplate. Her blindfold can also be taken off. Also, she comes with her weapons Virtuous Contract and Virtuous Treaty (each with attachable effect parts) along with the tactical support unit Pod 042 and a black box.
Add the beautiful android on a cruel mission to your NieR collection today!
Accessories
Back and Front Hair Parts
Face Plates x2
Blindfold
Body
Right Shoulder Parts x2
Right Arm Parts x2
Right Hand Parts x3
Left Shoulder Parts x2
Left Arm Parts x2
Left Hand Parts x3
Right Leg Parts x2
Left Leg Parts x2
Virtuous Contract
Virtuous Treaty
Attacking Effect Parts x2
Pod 042
Black Box
Product Features
Features 2B and her support unit Pod 042
Includes her weapons Virtuous Contract and Virtuous Treaty
About 10cm tall
Basic Specifications
References
---
Manufacturer / Brand
Square Enix
---
See Full Specifications
Downloads and Related Links
Full Specifications
Physical
Item Size/Weight
Approximately 100mm in height
---
What Customers Say About Us
Ordered on a whim as I couldn't get both items elsewhere. Was swiftly processed and dispatched, quick and professional with no fuss. Items arrived in perfect condition with no damage.

All around perfect experience. Ross Johnson
Ordered a new monitor from Kikatek
The monitor arrived well packaged the next day by DPD, this was extremely good considering it was the week before Christmas. I would not hesitate to purchase items from Kikatek again, a very good service. Neil Wilson
Really great rpice, was waiting for a long time to find the right price. Great screen arm from Dell, really can lift an engine block! Faultless service. ***** Jethro Hazelhurst
Great price and received item quickly too. Would recommend. Stuart
Good range of products and good service, with a selection of shipping options. Dave Edwards

Nendoroid 2B / YoRHa No.2 Type B (NieR:Automata)