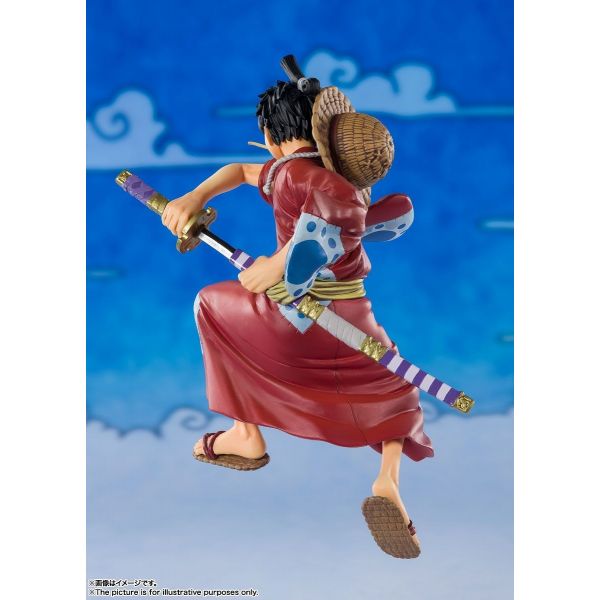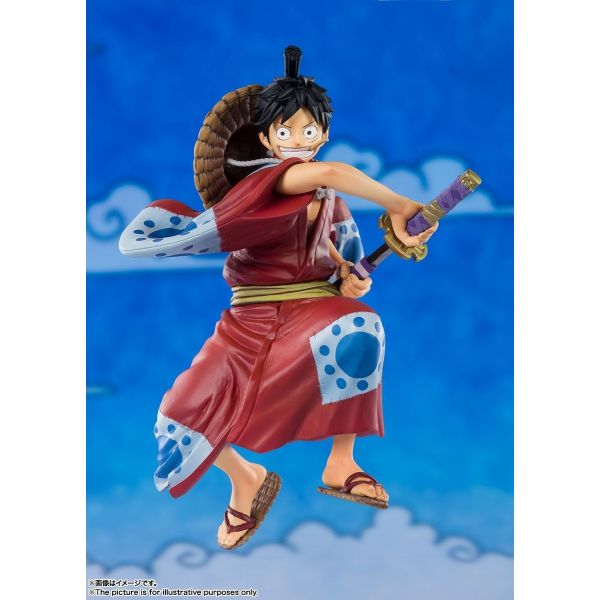 Monkey D. Luffy aka Luffytaro - Figuarts Zero (One Piece)
Luffy AKA "Luffytaro" in the Wano Country draws his sword ready for battle
Luffy stands approximately 14cm tall
Description
The fantastic "One Piece" illustration on the cover of Jump Comics Vol. 91 is now brought to life by Bandai Tamashii Nations!
The Straw Hat Pirates, wearing their colourful Wano Country outfits, are ready for their next adventure — and this group of Figuarts Zero figures allows you to join the fun! Each figure is sold separately, so you can collect only your favorite characters, or add all of them to your collection for maximum impact!
Known in the Wano Country as "Luffytaro", Monkey D. Luffy leaps into the air and prepares to draw his sword, eager for the battle to begin! The separately sold Usopp (Usohachi) figure comes with an alternate facial expression for Luffy, too!
Don't miss it! Get yours today!
Figure Size: Approximately 14cm tall
Materials: ABS, PVC
This is a completed and painted, fixed-pose figure.
Product Features
Based on the the fantastic "One Piece" illustration on the cover of Jump Comics Vol. 91
Luffy AKA "Luffytaro" in the Wano Country draws his sword ready for battle
Luffy stands approximately 14cm tall
Basic Specifications
References
---
Manufacturer / Brand
Bandai
---
See Full Specifications
Full Specifications
Physical
Item Size/Weight
Approximately 14cm tall
What Customers Say About Us
Ordered a new monitor from Kikatek
The monitor arrived well packaged the next day by DPD, this was extremely good considering it was the week before Christmas. I would not hesitate to purchase items from Kikatek again, a very good service. Neil Wilson
Ordered on a whim as I couldn't get both items elsewhere. Was swiftly processed and dispatched, quick and professional with no fuss. Items arrived in perfect condition with no damage.

All around perfect experience. Ross Johnson
Nendoroids decent priced,packaged superbly and delivered within a few days. Thank you and Happy Holidays! Kevin Hiew
My order arrived quickly and was in good condition when it arrived. A good service, in fact. Mansur Darlington
Really great rpice, was waiting for a long time to find the right price. Great screen arm from Dell, really can lift an engine block! Faultless service. ***** Jethro Hazelhurst Monkey D. Luffy aka Luffytaro - Figuarts Zero (One Piece)